Understanding Google's Local Search Algorithm
Are you frustrated with your business not ranking well in local search results? We understand the struggle and the desire for your business to be visible and irresistible to potential customers. That's why we've got you covered by providing information that dives deep into understanding how Google's Local Search Algorithm works. With Google having over 90% of the search engine market, it is certainly a great place to start for your business.
Google's Local Search Algorithm is a complex system that determines the local search rankings of businesses. It takes into account various factors and components to provide users with the most relevant and accurate results.
There are three main factors to determine Google's local ranking:
Relevance

Prominence

Distance (Proximity)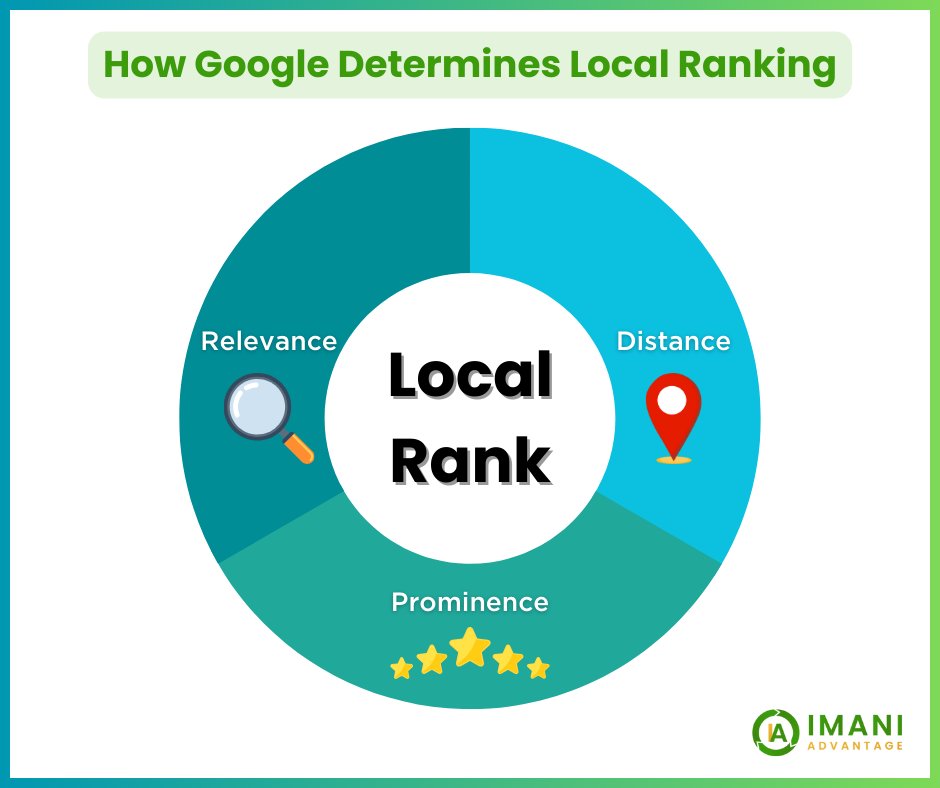 Understanding and focusing on relevance, prominence, and distance (proximity) will greatly improve your business's chances of ranking well in local search results and attracting potential customers in your community.
The Google local algorithm is constantly updating to ensure that search results best match the intent behind a user's query.
Relevance
Relevance refers to how well a local Business Profile matches what someone is searching for. Add complete and detailed business information to help Google better understand your business and match your profile to relevant searches. -- As defined by Google
Let's talk about relevance, the MVP of Google's local search algorithm. Think of it as the matchmaker between users and businesses. When users search for something, Google's algorithm plays Cupid and tries to find the most relevant results. And trust me, you want to be the belle of the local search ball!
To boost your relevance and win Google's heart, start by sprucing up your Google Business Profile. Make sure it's complete, accurate, and oh-so-sexy with a clear business category and description. You want Google to know exactly what you're all about. Oh, and don't forget your website! Fill it with high-quality content that's relevant to your customers' wants and needs.
Local Listing Categories and Attributes
Local listing categories and attributes play a crucial role in determining a business's relevance for local searches on Google. Let's break it down a little further...
First things first, choose a primary category that screams, "This is what we're all about!" It should accurately represent the core nature of your business. Think of it as the superhero cape that helps you stand out from the crowd. Stick to one primary category unless you truly offer various services that fit into different categories. We want to avoid any confusion, my friends.
Attributes are little nuggets of information that give potential customers a sneak peek into what your business is all about. It's like showcasing your superpowers! Link your chosen attributes to the primary category to create a powerful combo. For example, if you're a restaurant, flaunt attributes like "outdoor seating," "wheelchair accessible," or "free Wi-Fi." Show Google and users that you've got it all covered.
Here is an example of other cool attributes that represent us at Imani Advantage -- as in Black-Owned, Veteran-Owned, and Woman-Owned:
Remember, Google has guidelines for a reason. Please choose a category that truly describes your business, avoid stuffing it with unnecessary keywords, and be specific and descriptive with your attribute choices. Keep it real, folks!
By handpicking the right local listing categories and attributes, you'll boost your visibility in local search results and attract customers who are searching for exactly what you offer. It's time to unleash your business's true potential and get noticed by the right crowd.
On and Off Page Signals
Diving into the world of on-page and off-page signals can be a little daunting for most, so let's keep it simple and explain what they are.
On-Page Signals – those optimization techniques you can apply directly to your website. Think about content, meta descriptions, title tags, body tags, internal/external linking, and overall site structure.
Off-Page Signals – the external factors that give your website street cred 😎. Think about backlinks/link-building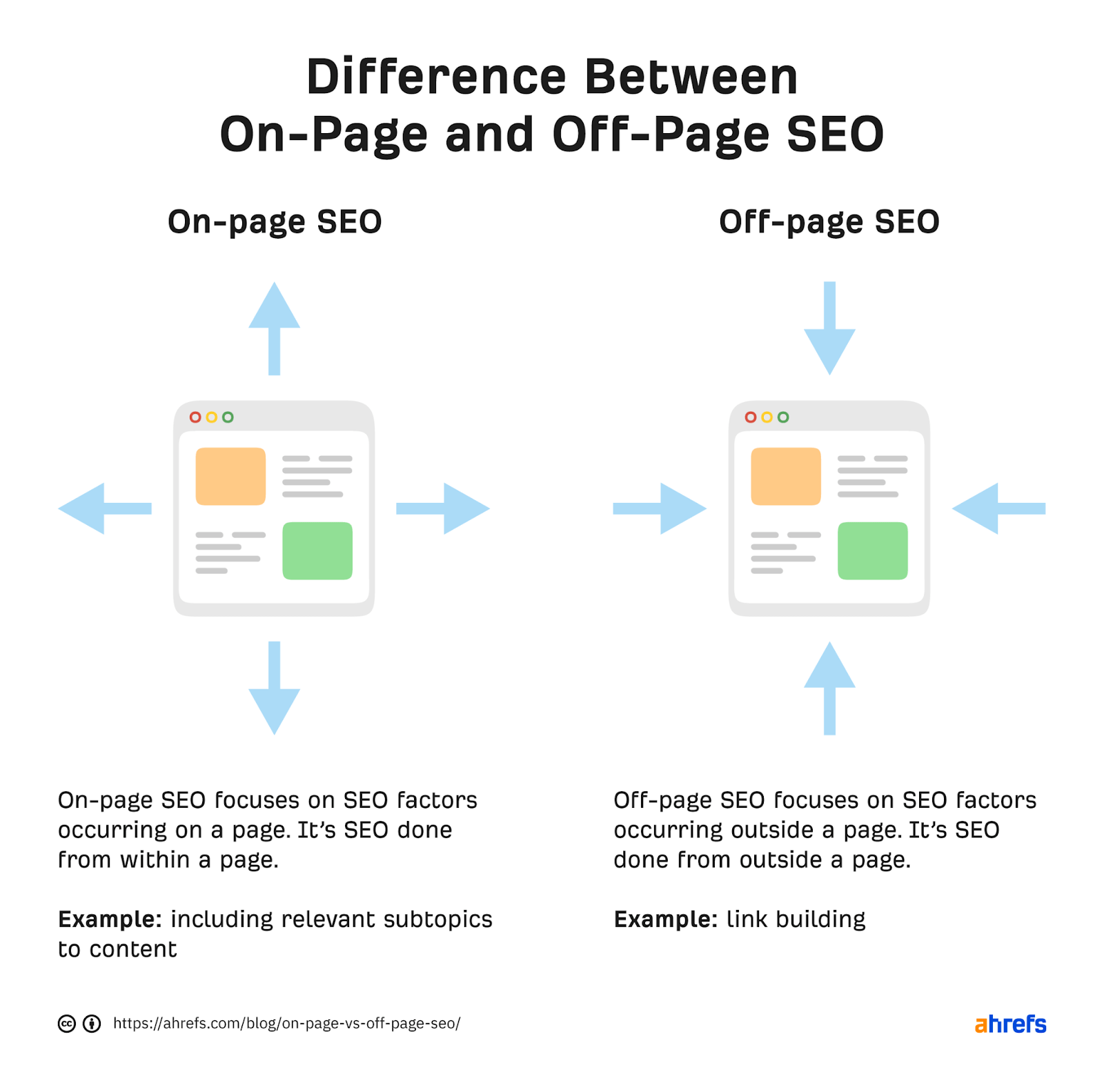 Optimizing web pages with relevant keywords and providing high-quality, relevant content helps increase the relevance and trustworthiness of a website. By incorporating keywords related to the business's products or services in the page titles, headings, and content, search engines can better understand the website's topic and connect it to relevant search queries.
Obtaining backlinks from credible and relevant websites is also crucial for local search rankings. When credible and relevant websites link to yours, search engines see it as a vote of confidence. They trust those websites, and when they vouch for you, it's like getting a gold star for being trusted and authoritative. Those backlinks are indicators of your popularity and relevance, so don't underestimate their power.
Prominence
Prominence refers to how well known a business is. Some places are more prominent in the offline world, and search results try to reflect this in local ranking...Prominence is also based on information that Google has about a business, from across the web, like links, articles, and directories. Google review count and review score factor into local search ranking. More reviews and positive ratings can improve your business' local ranking. Your position in web results is also a factor, so search engine optimization (SEO) best practices apply. -- As defined by Google
Prominence plays a significant role in Google's local search algorithm. It refers to the level of visibility and reputation a business has online. When a business has a high level of prominence, it is more likely to appear in the top search results for relevant queries. There are several factors that contribute to a business's prominence, including the number and quality of online reviews, the overall rating of the business, the level of engagement with customers, and the accuracy and consistency of its business information across different platforms. By actively managing these factors and building a strong online presence, businesses can improve their prominence and increase their visibility to potential customers.
Citations
Why are citations important? They serve as key signals for search engines like Google to determine a business's credibility and relevance for specific geographic areas or search queries. Search algorithms rely on consistent and accurate NAP information across different websites to validate the legitimacy and existence of a business.
No, we're not talking about catching some Zs for 20-30 minutes...NAP stands for Name, Address, and Phone number. So, pay close attention and make sure your NAP info is spot-on, accurate, and consistent across your website. Typos are a big no-no here and we want your customers to find you easily and avoid any confusion.
To ensure citation consistency, business owners should regularly monitor and update their NAP information across various platforms. Additionally, it is crucial to claim and optimize your Google Business Profile, as it plays a significant role in local search results.
Review Volume and Business Responses
Positive online reviews from happy customers are like a big virtual thumbs-up. They act as social proof, showcasing your business's trustworthiness and top-notch quality. When potential customers see those shining reviews, it builds confidence and boosts your relevance and visibility. It's like a stamp of approval.
But hold on my friends, it's not just about getting any ol' review. Quantity matters. The more reviews you have, the better chance you have of attracting those potential customers. It's a numbers game, folks! Your review velocity or the rate at which reviews come pouring in tells Google that you're actively engaging with your customers, giving them a fantastic experience, and keeping them raving about you.
Equally important is your response to customer reviews. Responding to reviews shows that you value feedback and customer experiences. It also provides an opportunity to address any concerns or issues raised by customers, showcasing your commitment to excellent customer service.
By actively managing and responding to reviews, your business can differentiate itself from competitors. It demonstrates to both search engines and potential customers that you prioritize customer satisfaction and engagement. So, be sure to encourage reviews from your satisfied customers and promptly respond to both positive and negative feedback to enhance your online reputation and boost your visibility in local search results.
Inbound links
Hold on tight, folks, because we need to talk about backlinks once again. I know I have mentioned them in the relevance section but they hold a special place in the prominence section (according to Google's definition).
Bottom Line Up Front - unless Google announces that they don't care about inbound links, gaining backlinks will remain an important element to enhancing your authority and trust.
Quick Tip: If you're ever wondering why your competitor is outranking you. Well, take a peek at the number of backlinks their page has compared to yours.
Distance
Distance considers how far each potential search result is from the location term used in a search. If a user doesn't specify a location in their search, we'll calculate distance based on what we do know about their location. -- As defined by Google
With the information provided about Relevance and Prominence mentioned earlier, the distance or proximity between a user's location and the businesses that appear in search results make up how Google's algorithm works. A business that is closer to the user's location is more likely to appear higher in the search results. This means that local businesses have a better chance of being discovered by potential customers who are in close proximity to their physical location.
This is something you can easily test for yourself...
Search for something like pizza or burgers at home, then do the same search when you are in another location such as work or school. The results may be different, especially when you are in a larger city.
A simple test for searching "burgers" in various places in Louisville, KY shows how the results changed.
Geo-modified searches
When users perform geo-modified searches, they are usually planning to visit a different location and are looking for information, products, or services related to that specific area (even though not always the case). The relevance and prominence factors take a stronger spotlight for geo-modified searches. If search engines detect that you're not physically within the city you included in your search, they'll rely more on these two pillars rather than just proximity.
So, here's the scoop: expect to see search results that are close to the city's centroid and boast strong relevance and prominence. It's all about delivering the most relevant and prominent listings, no matter where you're searching from.
For example, let's say I am planning a trip to Atlanta, GA. If I search "gyms in Atlanta", my results should display more gyms within the city limits - closer to the center.
Non-geo searches
Non-geo searches are different from geo-modified searches in terms of user behavior and the resulting search outcomes. Unlike geo searches, which are performed by users planning to visit a different location, non-geo searches are conducted by individuals looking for something nearby. Let me give you an example. Let's say I'm in Louisville, and I search for "gyms." Guess what? The search results will show gyms closest to my location.
Google is smart enough that the search engine infers local intent even if the searcher doesn't include "near me" in their query. This ensures that we receive relevant and easily accessible options that are nearby, enhancing convenience and experience.
Prominence also influences non-geo search results. Search engines give preference to businesses or websites that have a strong online presence, positive reputation, and authority in their industry. This ensures that high-quality and trusted options are prominently displayed to users, helping them make informed decisions.
So How do I Improve My Local Ranking for Maximum Results?
We wholeheartedly believe in the power of simplicity and success. That's why we're big fans of the KISS method - Keep It Simple & Successful. When it comes to boosting your local search rankings and staying ahead of the competition, there are a few essential steps you simply can't ignore. Consider them the building blocks of success, the bare minimum you need to do to make an impact. Are you ready for the challenge? Let's dive into these fundamental steps and set you on the path to local search domination.
Optimize Your Google Business Profile
If you didn't know, Google offers a free Business Profile to help you connect with potential customers. But here's the thing – to make the most of it, you need to optimize your profile and stand out from the crowd. Let me break it down for you with some simple yet powerful tips:
Provide as much information as possible: Don't hold back! Give Google and your customers all the juicy details about your business. Fill out every field, including your address, phone number, website, business hours, and any other relevant information. The more information you provide, the easier it is for customers to find and connect with you.

Make it easy to contact you: Ensure that your contact information is displayed, making it super simple for users to reach out and get in touch. A clickable phone number or a direct link to your contact form can do wonders. You can also enable the chat function so that you can receive messages within the Google Maps App.

Regularly update and improve your profile: Keep it fresh, my friend! Regularly update your Business Profile with the latest information, such as eye-catching photos, special offers, seasonal promotions, or any changes to your services. Show Google and users that you're active and ready to serve.

Take advantage of category-specific features: Google has some nifty tricks up its sleeve, tailored specifically for your industry. Explore category-specific features and options to make your profile shine. Add attributes that showcase your unique offerings.
So, there you have it – simple but mighty ways to optimize your Google Business Profile for maximum value.
Establish a Review Generation Strategy
Establishing a review generation strategy is vital for businesses to build a strong online reputation and attract potential customers. Here are the key steps to follow:
1. Quality Products and Services: First and foremost, ensure that your business provides a high-quality experience for your products or services. Providing exceptional value to your customers will increase the likelihood of positive reviews.
2. Encourage Happy Customers to Leave Reviews: Actively engage with your satisfied customers and politely request them to leave honest and valuable reviews. This can be done through email campaigns, social media posts, or in-person interactions. Make it easy for customers to leave reviews by providing direct links to review sites.
3. Respond to Reviews: Show appreciation for customers who leave reviews by responding promptly and thoughtfully. Remember that prospective customers often read reviews to gauge the quality of a business. By responding to both positive and negative reviews, you demonstrate your commitment to customer satisfaction. It also provides an opportunity to showcase your outstanding customer service and build trust with potential customers.
4. Utilize Review Generation Tools: Take advantage of available tools and platforms specifically designed to help businesses generate more reviews. These tools can automate review requests, monitor online mentions, and provide valuable insights.
Remember that ethical practices should always be followed when establishing a review generation strategy. Genuine and honest reviews are crucial for building trust and credibility with potential customers.
Manage Your Citations
As mentioned earlier, you want to ensure your information (Remember NAP) is consistent. Many citation sources such as Yelp, Yellow Pages, Bing, Apple Maps, etc. can be of added value. Have a list of all citations and ensure it stays accurate. To make it easier you can use tools to help manage this such as Yext, Bright Local, Moz Local, and Whitespark to name a few.
Gain Backlinks
This is probably the most challenging one but it gets easier when you create valuable content. When you offer something truly valuable, whether it's expert advice, industry insights, or helpful resources, others in your niche will be more inclined to give your content a virtual high-five by linking back to it. It's like the online version of saying, "Hey, this is awesome, check it out!" So, roll up your sleeves, put on your creative hat, and start crafting content that will make others eager to spread the word about your expertise.
Improve Your Local Search Visibility with Imani Advantage
Congratulations on taking the reins of your local search ranking and making a real impact on your business's visibility! When it comes to local marketing, we understand that every detail counts, and that's where Imani Advantage steps in.
Get ready to experience our Local Marketing Advantage System – a powerhouse combination of online reputation management, local SEO, advertising, marketing automation, and artificial intelligence. With this dynamic approach, we'll help you boost your revenue, streamline your workflows, and amplify your online visibility like never before.
Don't let the opportunity slip away – reach out to us today and discover how Imani Advantage can help you achieve unparalleled domination in your local market.